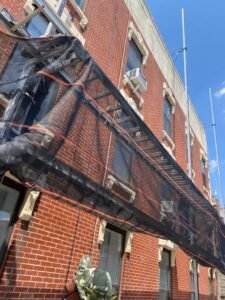 Ageing harms constructions of all kinds. A well-constructed beautiful building even undergoes gradual deterioration over time. No matter how well it is maintained including timely repair works, degradation in its structural foundation and appearance is inexorable. It affects not only the aesthetics but also compromises the safety quotient. Apart from the residential and commercial buildings, historical buildings and monuments are also under threat considering their architectural and cultural significance. Thus the restoration of such structures by a professional building contractor is of utmost necessity. It involves reinstating the building to its original condition or even to an improved state. The process of restoration helps in safeguarding the buildings or construction structures from further damage.
Restoration can occur at multiple levels depending on the extent of damage and the materials used in the construction process. Whether brick, stone, marble, limestone, or concrete, the restoration technique largely depends on the damage type.
Is It Time for Building Restoration?
Most often repair works in a building are enough to fix small or big damage issues. Cracks, missing bricks or concrete blocks, fading yellow paint, waterproofing failure or problems with doors and windows are effortlessly fixed with a repair or replacement job. However, major damages risking lives and neighbouring properties or even replacing outdated utilities require an extensive restoration program by a licensed building contractor Westchester.
Read More:- Interesting Building Renovation Ideas To Keep It Simple And Classy
Don't you know when you need a building restoration service? Look out for the following signs:  
You can never compromise on the safety of the building occupants! Whenever there is a major safety concern that may include widespread waterproofing issues or structural damage to the building foundation, a complete restoration process is the only solution to deal with such issues. It ensures a safe environment to reside in or work in.
Over time a building loses its aesthetic appeal as it is persistently exposed to elements of physical and chemical damage. The stucco work on the facade or gleaming yellow paint on the walls loses their sheen and intricacy. The visual appeal of the property decreases and so does its value. Building renovation contractors Bronx can readily take measures to restore its condition.
Restoration doesn't always involve the renovation of the entire building. It may often concentrate on particular areas that have undergone the adverse effects of ageing. When left unattended, it possesses the potential risk of extensive and severe defilement. Ignorance leads to imminence!
Did we miss the historical significance of your building? Cities like Bronx, Queens, Manhattan, and Westchester are thronged with old and historic buildings that speak of divine art and architecture. The preservation and restoration of such archaic structures by local building contractors Queens are essential for future generations. These constructions are too valuable just to let them dissipate!
Takeaway
Building restoration is a crucial aspect of preservation when performed with professional assistance. It protects the building from advancing damage while ensuring maintaining a safe environment. A precise restoration service is an ideal take on reinstating the value of a property- historic or non-historic!