Every home is a place of comfort and has a personality that changes as the family grows. But for significant changes, it's best to call in building restoration contractors Queens for assistance to make your vision come true. That's where we can help. We offer years of expertise and know-how to turn your dreams into a reality without any troubles that you may have anticipated!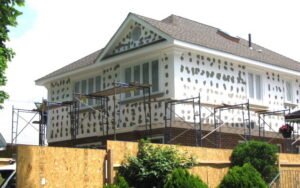 We focus on a renovation process that speaks directly to our client's needs, who want to be part of the process and have complete transparency into every step we take. As a result, we offer the best building restoration services in Queens. Our clients trust us and enjoy working with us because we are honest, hard-working, meticulous, and talented. These qualities allow us to provide you with a beautiful, long-lasting, and on-the-budget completion of your NYC house, condo, or apartment.
Our approach toward homebuilding renovation contractor Queens, NY, is full-scale, end-to-end project completion. We handle every individual detail single-handedly, including obtaining necessary permits, assembling finishes and fixtures, planning and acquiring needed materials, interior designing, etc. 
Renovation of the Kitchen
The kitchen is the most notable area in the house. We have mastered designing it from all possible angles. We bring your dream kitchen aesthetics to life or propose plans for you to choose from. We redesign the floor plan to enhance traffic patterns and consider which direction the appliance doors will swing. We make custom cabinets to meet your particular taste. We assist in relocating plumbing if need be. To maintain efficiency, we plan well before execution.
We assist you in making decisions about how you can renovate your bathroom. Our services range from technical aspects of plumbing to the decorative side of finish selection. We're top-rated building repair contractor experts in all elements of renovations.
Our expertise ranges beyond kitchens and bathrooms to encompass any space in your Queens home. As a result, we're extremely comfortable in all interior situations, from closets and laundry rooms to living rooms and flooring. 
Building Improvement Contractor Queens
As experts in construction and home improvements, seasoned carpenters and tradesmen in Queens, NYC, have created a reputation of premium-quality craftsmanship and stupendous customer relations for many years. Our team has been helping our loyal customers turn a dream home renovation into a hassle-free, budgetary-friendly process while incorporating their needs into each step of the project. 
Our teams of building repair contractors Queens are customized based on the project requirement to ensure the best expertise is used for your project. Therefore, our team is highly motivated to satisfy our clients, complete impeccable work, and exceed our customers' expectations. 
Kitchen Remodeling in Queens 
We believe your home mirrors yourself, your family, and everyone who lives there. With our renovations, you have the opportunity to personalize your kitchen. Remodeling lets you create a space that reflects your preferences and individuality. It also allows you to build the space that will complement your lifestyle and your needs in your kitchen. In addition, we utilize storage and counter space to help you with a direction towards your design. 
We help you find your aspiration and design to create the space you want! We carry a wide selection of inventory, including furniture that can be customized, lighting, area rugs, and many other exclusive home accessories suitable for your needs. We also provide realistic 3D designs so you can better visualize what the outcome may look like.
We, a home building renovation contractor in Queens, NY, have helped many design and construction professionals solve problems around poorly performing buildings, decide which green building innovations to adopt, and choose healthy and sustainable materials. In addition, we've guided manufacturers to improve their products and helped architecture teams integrate their design process and better communicate around key topics.