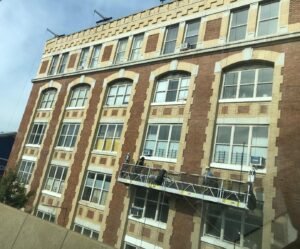 Masonry is skilled labour performed by masons who build and create structures using various construction materials, like bricks, stones, tiles, concrete, etc. Masonry contractors possess the skills and experience required to perform any work related to masonry, whether inside or outside your property. Examples include concrete driveways and sidewalks, fireplaces, chimneys, pavers, laying bricks, and tile and stone installation.
We are the best-licensed masonry contractor in Westchester, NY and are thoroughly insured. We have exceptionally skilled and experienced masons and personnel on staff who adhere to the Occupational Safety and Health Administration (OSHA). We are expert Masons in Westchester, NYC. We provide a variety of options for Masonry Services in Westchester County.
Why Choose Us?
Masonry contractor Westchester County offers one of the largest selections of Masonry Services in Westchester County in the industry ranging from traditional ones to those using more sophisticated systems.
What Does a Masonry Contractor Do?
Masonry contractors are skilled labours who have received training in masonry construction. They are expert Masons in Westchester and provide builders with masonry repair, construction, and other diverse masonry applications. Where once masons performed this task, today, experienced and skilled people in this field handle a plethora of masonry tasks.
What Is the Role of Masonry Contractors?
The focus of custom Masonry in Westchester County is on the particular work of masonry and all it entails, but this is not where their skills end. Masonry contractors must have an in-depth understanding and knowledge of more than the actual masonry process.
Why Hire Us?
Member of the Mason Contractors Association of America
Highly trained staff
Designated project managers
Licensed and insured
Affordable rates
Prioritization of safety
Premium quality work
Sophisticated techniques and technology
At Masonry Contractor Westchester County, we strive to ensure that our clients understand exactly what we do, how we do and who does it. In most cases, a masonry contractor is involved.
Our Services
Masonry Services in Westchester County
We have a broad range of masonry services for residential and commercial properties in Westchester County. Our licensed masonry contractor, Westchester, NY, services include custom homes, brick/stone restoration and repair, chimney repairs, flue tile removal, brickwork and repointing, chimney work, and more.
WETT Certified Inspection
Do you think you require a personal inspection for insurance? Or for the pre-acquisition of a home equipped with a fireplace? A basic visual inspection involves a general overview of the readily accessible parts to determine if the system meets the current regulations. If this description fits your needs, we are a WETT certified member that can perform an inspection or an evaluation.
Stone & Fireplace Installations
Cuddling with our loved ones on cold winter nights is the best feeling in the world. Your fireplace installation must be done correctly for your family's safety. Whether you choose a classic look or a modern, sophisticated feel, our expert Masons in Westchester can deliver it all!
Sidewalk Repair Contractors
After some time lapses, the sidewalk gets degraded, so worry not, we can get them repaired for you. We provide longevity for a period of time. Excel Masonry Contractor is committed to delivering durability as we have gained pertinent fame in Queens, NY. Our sidewalk repair job is highly proficient so that no sidewalks remain damaged when we fix them. When you look for "sidewalk repair near me", you will find us among the best sidewalk repair companies. Get in touch with us today!
Brick Repair
Weathering and decay can form voids in the joints between the bricks and stones, allowing water to seep in and damage the house. Brick repair, commonly known as repointing, is done to old bricks to help prevent damage in both old homes and new homes. We are skilled at repointing bricks in old houses, and new custom builds.
Concrete Sidewalk Contractor
You might be considering that the reputed companies always charge high prices. However, that's not correct. In Westchester, NY, our services are reasonably priced. Our sidewalk concrete prices are lower than those charged by our competitors. We charge minimal sidewalk concrete costs while providing the best services. We are happy to assist you, so contact us today to take advantage of our exceptional services!