Fire Escape Painters in Westchester, NY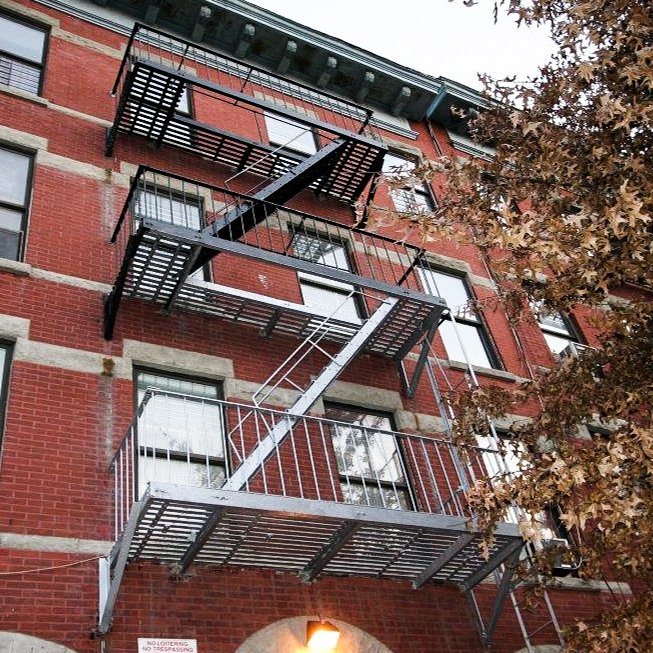 The fire escape is an integral architectural structure intended for an emergency exit during a fire outbreak in a building. So, we at Masonry Contractor NY offer you superior solutions in fire escape painting Westchester that forms the core of the maintenance strategy. With a team of licensed and insured professionals, we propose you the most durable and cost-effective painting solutions that will improve the functionality and aesthetics of your fire escape. 
Since fire escapes are made of wrought iron or steel, they are prone to rust and disintegration over the years. As the owner of a property, you are responsible for keeping a fire escape safe to use when in need. Failure in doing so can lead to grave accidents causing a potential threat to the lives of the occupants.
However, being one of the most reputed and reliable fire escape painters in the city, the crew at Masonry Contractor NY acknowledges implementing top-quality paints and tools for an incredible service. Our extended experience in the industry has earned us massive credibility and a long list of loyal clientele. We are well-trained to face complex challenges enabling us to explore our expertise. 
Keeping Fire Escapes Safe and Accessible
For every multi-storey home or business in New York, it is mandatory to have a fire escape as a part of the building code regulations. When the elevators and internal staircases are unsafe to use during a fire outbreak, emergency external fire escapes are the only alternative. However, often they are the most neglected units of a building owing to their rare usage. You may find yourself struggling to climb down a fire escape for its feeble structure and lack of stability.
Hence fire escape refurbishment is highly crucial to keep it accessible and safe for emergency use. Loose or missing pieces, improper installation, and lack of maintenance cause a substantial safety risk to the building's inhabitants. Ensuring your fire escape complies with the New York Fire Code, it is requisite to undergo regular inspections to determine damages and fix them earliest. You can also escape a violation notice from the authority!
At Masonry Contractor NY, we have an expert team certified to perform inspections on demand and readily offer an extensive array of fire escape services. Our comprehensive solutions are based on broad-spectrum knowledge and understanding of the various problems while recognizing the fundamental cause to prevent further impairment.
Check out our complete refurbishment service:
We visit your building and thoroughly examine the condition of your fire escape. We look for damages and their extent and suggest you the best long-lasting solution.

By using a wire brush, we scrape off the rust and paint to ensure the surface is free from all unwanted particles. It also enables us to detect other underlying concerns like loose joints, missing pieces, and so on. We repair them promptly before proceeding with the painting process.

We apply a mix of liquid detergent in water to clean the surface rigorously and get rid of loose debris. It is essential to let the surface dry out completely for ensuring proper paint adhesion. 

Our skilful painters layer the metal surface with rust primer, verifying not a corner is missed!

Once the primer dries, we apply two coats of the paint of your choice. We make sure we allow the coats to dry in between.
How Does Masonry Contractor NY Differ?
Masonry Contractor NY is one of the eminent professional fire escape painters taking care of all your needs over the years. Our experts can assist you in violation removal, go for an inspection, and fix all kinds of damages without any hassle. Accomplishing numerous residential and commercial projects, we have mastered the art of precision and quality that conforms to the highest quality. 
We intend to offer optimal safety to every building inhabitant, curtailing the fear of dealing with crises. Keeping every fire escape safe and accessible during emergencies is the principal goal of Masonry Contractor NY. Our journey in the industry has enabled millions of building owners in the city to enjoy a safer environment by assisting them in the repair and maintenance of fire escapes. When we are aware of refuge, we can deal with crises better!