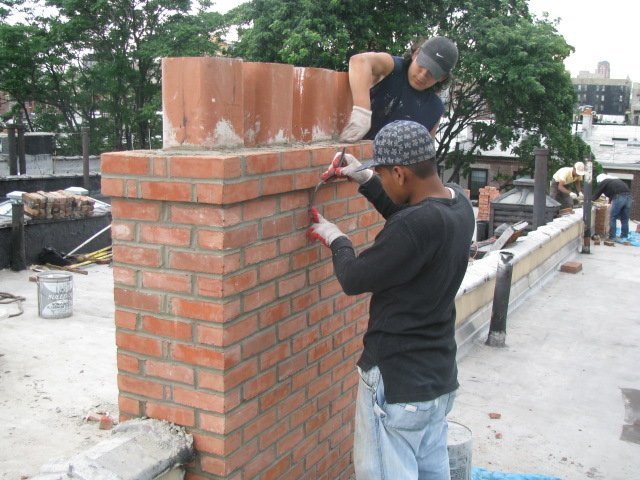 The brick repair contractors Bronx specialize in employing intensive attention to the repair and installation of brick structures. Brick and mortar are the most common materials used in the fabrication of durable and strong constructions ensuring effective functionality and aesthetics. Brickwork is not a one man's job and demands utmost professionalism and implicit skills.
Masonry Contractor NY possesses high-end proficiency in brick repair Bronx to comprehend impressive results. Removal of old bricks and installing new ones or positioning misplaced bricks, we dispatch excellent quality service in all spheres. 
Though masonry is a very durable form of construction, the extreme weather conditions in New York result in regular wear and tear over time. It can take a huge toll on the foundation of a building causing havoc damage. Contacting a professional brick wall repair contractor will help fix the problem and save you from catastrophic impairment.  
But, how do you know when to contact a masonry contractor?
You Need to Hire Brick Repair Contractors Bronx- Know When? 
Brick crack repair Bronx is a part of the regular maintenance program of your masonry structure. Whether a residential or a commercial building, it is vulnerable to weather damage, corrosion, vegetation growth, and even dust and pollution. There will be a time when your building will exhibit signs of damage.
Following are the clear indications when you require hiring an expert professional like Masonry Contractor NY:
Often the bricks fail to retain their original shape and become bowed. This leads to narrow passages between two bricks that allow water ingression. It perfectly damages the entire wall making it weak and fragile.

Cracks in bricks are perhaps the most immediate signs of structural defilement and are extremely common. They are unavoidable as the masonry structures even the brick steps are persistently exposed to extreme climate changes and stress. Hiring

brick step repair contractors Bronx, NY

will offer the most ideal solution to this.  

Brick repointing is necessary every 15-20 years due to missing mortar or surface deterioration. It results in the deformation of the brick structure. The

brick mortar repair contractors Bronx, NY,

are the experts possessing adequate skills and knowledge about the repair techniques. 

If you notice dampened walls or peeling paint inside your building, it is often the cause of moisture seepage. Such issues occur when there is exterior damage to the brick walls.

Since New York receives ample snowfall in the winters, the masonry structures persistently undergo a freeze-thaw cycle. Thus frost boils occur that are bulging bricks. For such

brick repair Bronx

,

Masonry Contractor NY

proffers the most consummate solutions.
Whom should You Hire for Brick Repair Bronx?
If you search for brick patio repair contractors near me on the Internet, you will receive multiple options. But, hiring the most reliable and efficient masonry contractor is always a challenging task! A wrong choice can lead to a great impact!
Here are some of the significant checkpoints that can help you hire the right man for the job:
A certified and licensed masonry contractor is trustworthy in skills and knowledge.

The years of experience of

brick wall repair contractors Bronx, NY

matter in terms of the quality of work.

Any good contractor will always have a positive reputation in the industry as reviewed by clients.

Projecting an estimated budget is necessary so that the client is aware of the expenses.

Transparent communication is immensely important for attaining customer satisfaction.

The post-delivery services must be prompt at par excellence.
When the aforesaid points are of enormous priority, Masonry Contractor NY is your destination!