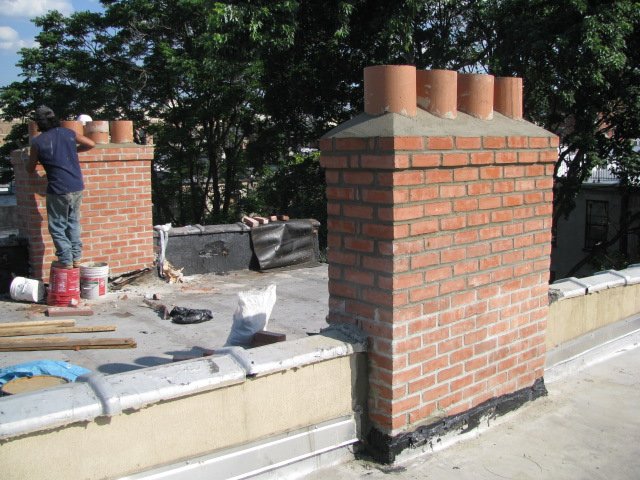 We are New York's premier brick wall repair contractors having years of experience in the industry. Our pride lies in the vast experience, knowledge, skill, and professional-grade tools and procedure. Our services are available throughout New York and the greater NYC area. The steps to repair brick wall begins with site visitation for inspection, evaluation, and providing an estimate before taking up your project.
We can do brick wall pointing, grinding, or simply replace a home or commercial property brick to help eliminate any water leaks or wet spots. Over time, natural weathering and decay can cause voids in the joints between masonry units, which often allows water to seep into the building. If you've noticed a problem like this, our brickwork pointing contractors in Manhattan can help you renew your masonry construction.
Our Brickwork Professionals
Our brick pointing contractors in Manhattan are strictly licensed professionals, thoroughly trained, and broadly experienced. We know how important your New York residential or commercial property is to you, so with all of our services, we strive to provide the absolute best in quality workmanship. We'll work directly with you to ensure you're getting everything you need from our services.
The Brick Pointing Process
The term pointing in construction refers to the finishing of mortar joints in the masonry, be it stone or brick. Unfortunately, the mortar often does not have a lifespan as long as the brick it holds together and, thus, should be replaced periodically.
Pointing is implementing joints to a depth of 10 mm to 20 mm and filling it with better quality mortar in the desired shape. It is done for cement mortar and lime mortar joints.
Repointing is removing deteriorated mortar from the joints of a masonry wall and replacing it with new mortar. If correctly performed, repointing restores the physical integrity of the masonry and thus enhances the longevity of the building envelope. Brick repointing Manhattan beach is affordable and assures quality.
Inspecting the Mortar
The first step during a brick pointing job is to inspect the mortar. We'll decide on the best methods to proceed with and whether or not there is any need to remove any part of the mortar. 
Replacing Old Mortar
We'll ensure that any mortar used to replace the older mortar, matches the existing mortar's type, color, and texture. Also, a mortar sample will be taken to help us identify the components, ratio, and aggregate.
Any damaged mortar is removed until the sound mortar's point is reached, which is a slow and careful process. 
Fixing Other Components
If your building uses any softer materials, they may need to be removed by hand to avoid any damage. If the mortar is hard, a grinder or a blade shall be used to remove it, and special care will be taken to avoid damage to any masonry units.
When brick pointing isn't done correctly, the mortar edge can feather, which is unappealing and also cause the mortar to erode quickly. For this reason, hiring brickwork-pointing contractors in Manhattan for this job is crucial. 
Advantages Of Brick Pointing
The main advantage of pointing is that it improves the overall look of the wall structure of your home. It also makes the walls much stronger and reduces the need for frequent maintenance. It also acts as an agent of weather protection for the walls on which it is installed and makes the overall building much more robust than before.
You've landed at the perfect place if you seek experienced brick wall construction in Manhattan, NY. We are the perfect service for you in New York City since assured feasibility in brick pointing costs is offered that cannot be matched with our competitors. 
We never compromise on customer satisfaction.