Exceptional Stucco Installation and Repair Services in Bronx, NY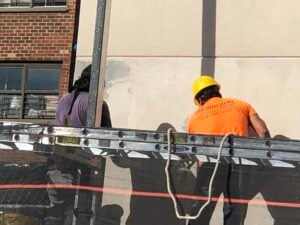 As a popular construction material, stucco is especially preferred for its classic look, high strength, and durability. When other masonry materials like concrete, brick, cinder block, and metal fail to offer impressive curb appeal, stucco is the best choice for exterior surfaces proposing striking textures and colors. If you are a property owner, stucco is your ideal alternative for architectural decorations, wall moldings, and surface coatings. 
We at Excel Masonry Contractor, specialize in delivering ultimate stucco solutions utilizing superior-grade products and employing the finest craftsmen in the industry. As a notable stucco contractor Bronx, our expert team manoeuvres installation, repair, and replacement services effortlessly through years of experience and excellence in the field. Caulking cracks, sealing holes, or removing blisters and mildew, we are equipped with the latest technologies and extensive comprehension of diverse skills and techniques. 
With time-tested solutions for all your stucco requirements, Excel Masonry Contractor takes great pride in achieving immense credibility by persistently working towards improving our services. Assuring utmost client satisfaction and premium, long-lasting results, we have nothing less to offer you other than earning your trust and loyalty!
Stucco Services Done Right!
Excel Masonry Contractor is a professional commercial stucco contractor Bronx that can transform your business space into a prolific environment brimming with spirit and enthusiasm. We understand the significance of your workplace in exhibiting your brand value. A spick and span building with extraordinary visual appeal generates a positive impression and an optimistic work environment.
So, our highly-skilled crew of dedicated specialists can efficiently handle complex projects and overcome challenges followed by climacteric results. Blending the finest quality Portland cement, lime, and sand, we create spectacular ornamental designs that boast elegance, apart from promoting additional structural strength. We meet all the requisite criteria for prompt project completion and accomplishing sustainable results. 
Fundamental Causes of Stucco Failure
Like all other masonry materials, stucco is also susceptible to damage under various circumstances. Natural weather elements and ageing are always responsible for general wear and tear of any external surface of a construction. 
However, several other factors are responsible for considerable stucco damage. You will require one of the exceptional stucco repair contractors Bronx like, Excel Masonry Contractor, to identify the damage source and provide a relevant solution.
Hairline Cracks-

These are fine cracks appearing on the stucco surface caused generally due to improper mud mixture, foundation settlement, and seismic movement. The good news is these cracks do not possess a threat to the structural integrity of your building!

Foam Trim Cracks-

Cracks in the stucco foam trim occur primarily because of temperature fluctuations. The constant expansion and contraction of the foam trim result in cracks. You require fixing these cracks promptly to avoid severe consequences.

Spider Cracks-

Resembling a spider web pattern, these cracks though not accommodating serious threats, are unsightly. They develop mostly due to improper mud mix or the mud mix drying up too fast.

Diagonal Cracks-

Appearing diagonally around doors or windows, these cracks indicate alarming foundation damage. Generally occurring due to improper flashing, waterproofing problems, or broken vents,

stucco installation contractors Bronx

can remove and replace the old stucco with a new one. It will aid in a durable solution.

Wicking and Mold-

The most common culprit of stucco damage is moisture. When the plaster of a stucco surface absorbs moisture, it results in unpleasant stains due to contaminants. Also, mildew and mold appear on the surface, creating an unhygienic environment. Waterproofing failure is responsible for such concerns. In most cases, stucco replacement is the ideal fix. 
Our expert team at Excel Masonry Contractor proposes extensive innovative solutions to save your stucco from substantial deterioration and beautify your building structures.
The Qualified Stucco Experts in the Bronx 
If you are contemplating installing or repairing stucco, you need to hire a licensed stucco contractor Bronx with immense expertise in the field. To achieve a superior finish and exceptional quality work, you must trust only the experts!
Gladly, you do not have to look too far! Excel Masonry Contractor is a one-stop destination for all your stucco requirements. Our architectural team offers extraordinary depth and creativity to accomplish the highest standards of engineering for making your building structurally strong and stable. Delivering versatile services at affordable prices, we are committed to furnishing durable, authentic, and sustainable solutions with minimum disruptions and timely completion. 
To consult our experts, call us at 347-331-7600 and receive a fair quote.