Bronx Sidewalk Inspection and Repair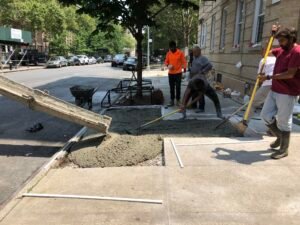 At Masonry Contractor NY, we offer comprehensive services in the inspection and sidewalk repair Bronx to help out the residents in the locality adhere to the enactment imposed by the U.S. Department of Transportation (DOT). We have trained and licensed inspectors experienced in dealing with congruous sidewalk inspections while you are willing to buy or sell a property. The maintenance of sidewalks is a general responsibility of every resident in New York; failing to do so will earn you a DOT violation notice.
The goal of DOT is to ensure safe and accessible sidewalks for pedestrians that are flawless. Using a wheelchair or pushing a shopping cart- a smooth sidewalk curb the risk of injuries. Understanding the significance of the sidewalk around your property, we at Masonry Contractor NY perform inspections and provide extensive solutions to repair and restore your sidewalk. Our team of experts are competently skilled to fix cracked, chipped, shifted, or settled sidewalks for preventing trip hazards.
In case you receive a sidewalk violation notice from NYC DOT for a defective sidewalk, you must not worry about it. We are one of the leading sidewalk repair contractors Bronx specializing in restoring concrete, brick, or asphalt sidewalks with the assurance of durability and quality.
Repair Sidewalk: Avoid DOT Violation
A sidewalk violation is the most prevalent form of notice issued by the NYC DOT that necessitates property owners to keep their adjacent sidewalks in good condition. Hence, regular maintenance and addressing defects is crucial to avoid receiving a violation notice. A DOT violation involves a lot of legal and financial trouble.
Masonry Contractor NY enables prompt and effective sidewalk violations removal NY without letting you experience any hassle. But, don't you think it is even better to avoid such a situation? Timely inspection and repair work can save you from coming into the legal books!
The common sidewalk defects resulting in violation are:
Heavy foot traffic and the constant exposure to heat, rain, and snow causes natural erosion in sidewalks over time. It leads to damages like cracks, broken edges, and pits. These may seem insignificant and harmless initially; however, gradually they expand and enlarge possessing various risks. Most trip hazards are caused due to such defective sidewalks.
A collapsed sidewalk may occur due to shifting or settling of the ground below the sidewalk. It is primarily the result of a faulty underground drainage system. The water often seeps into the soil causing a sudden shift or settling of the ground. The sidewalk above it will give away and collapse. Masonry Contractor NY can assist you with sidewalk repair Bronx by restoring or replacing it as the situation demands.
Improper sloping is another major concern for sidewalks. It can cause flooding of the adjoining properties and roads and pooling water too. The problem arises mostly during the wet months when excessive rainfall does not allow proper water drainage.
Tree roots often engender issues like cracks and lifting of sidewalks that affects not only the curb appeal but increase the risk of trip hazards and other injuries. However, you are not allowed to cut or shave City-owned trees. It is advisable to inform DOT about the issue.
Schedule Your Sidewalk Inspection Today!
Masonry Contractor NY is a certified company for sidewalk inspection NY possessing all the requisite skills and experience for supervising and conducting all sorts of inspections. Our professionals are fully insured and trained in this field to offer you extensive support and solution in the inspection proceedings so that you can remain worry-free for years! Contact us today for scheduling your sidewalk inspection and stay violation-safe!