The primary responsibility of being a property owner is looking after the Queens sidewalk repairs. We have established ourselves as the Top-Rated Sidewalk Replacement contractor service provider.
This indicates that we have addressed the needs of countless residential and commercial property owners. It also means that we have worked hard to stay abreast of changes in the industry and modifications in the regulations surrounding sidewalk violations.
We believe that performing the concrete sidewalk repairs in Queens is our responsibility to give locals and visitors a safe pathway to manoeuvre around our fine city. However, we realize it can feel confusing and overwhelming to try to handle it independently. Let us partner with you to make sense of it all and carry out the necessary work. Call us today for Sidewalk Repair Professional in Queens and other services.
Sidewalk Replacement Contractors Queens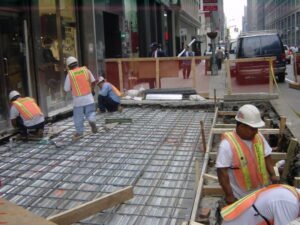 When it comes to all of your sidewalk and curb service needs, our sidewalk repair experts Queens are always available at your service. We have the skillset to know how to remedy any existing issues you may have quickly. We anticipate the opportunity to work together and take care of your project for you.
Our quality artistry, professional service, and excellent customer care have made us Queens' premier Top-Rated Sidewalk Replacement contractor. We have a lengthy list of satisfied customers to speak for us. Our reputation as a local, reliable, reputable sidewalk repair experts in Queens speaks for itself. We have the skills and expertise required to tackle your sidewalk repair Queens project, no matter how large or small. Let us take on your next concrete project:
Driveways and parking lots
Landmark sidewalk repair
Sidewalks, driveway, and walkway repair and installation
Curbs, accessibility ramps, and utility ramps
Patios, pool decks, and other backyard fixtures
Whether you require repairs to a newer sidewalk or if you have a historic property or a landmark sidewalk, the top-rated Queens area sidewalk replacement contractors Queens will provide you with the highest quality artistry at an affordable price. We are experts at colour-matching and pigment tinting to ensure that your concrete repair is aesthetically pleasing and meets all requirements and guidelines set forth by your local municipality.
The harsh New York winters, the rotting leaves of fall, the rainy springs, and summer heat can take a toll on the concrete surfaces. Extreme temperatures can cause expansion and contraction of concrete, thereby cracking it. The normal wear and tear, sinkholes, construction, and other incidences can damage your curbs and sidewalks. This may expose you to violations, liability, and costly repairs that the local municipality bills you. Timely maintenance of the concrete surfaces by the pros at Sidewalk Repair Queens can prevent:
Trip hazards and liability issues
Damage to vehicles
Unlevel surfaces
Weed growth and unsightly appearance
Pooling opportunities for water and snow
Sidewalk Repair Queens is the sidewalk replacement contractors you can trust to understand the concrete installation and repairs guidelines and requirements. We are familiar with permitting and inspections and can even manage the removal of your DOT violation. In case you have received a DOT violation notice, the Sidewalk Repair Experts Queens can resolve your issue promptly and professionally.
We will follow up for a final inspection with your local municipality and for violation removal. We will give you the peace of mind that your concrete contractor has the expertise and understanding of the proper procedures and corrective measures.
If you need a sidewalk replacement contractor to handle a backyard fish pond or an emergency repair service for an unexpected sidewalk collapse, you can count on us to always offer prompt, reliable, and courteous service. We are fully licensed and insured – ready to handle your commercial or residential concrete repair or concrete installation project.
Concrete damage in winter and summer is the norm in NYC and related areas. Sidewalk repair Queens are conceivable; however, you should replace your concrete driveway or patio in the long run. Here are some signs you must pay special attention to:
What are deep cracks?
Shallow cracks are superficial and are commonly not deleterious to the capacity of your patio. Fixes are workable for a period; however, a replacement will be vital in the long run.
How to identify sunken areas?
Your concrete driveway or yard is as good as the land that is underneath its surface. If the land begins to sink, it will affect the concrete and can make cracked or sunken areas show up. To stop this procedure, you should fix the land issue underneath it.
What is the relation between permits and contractors?
If you think you're exploiting NYC's sidewalk repair Queens program, you'll most likely need to hire a sidewalk repair professional in Queens for your sidewalk. You will have to call a specialist to fix the water, electrical, sewer, and other utility lines that could be running under your sidewalk.