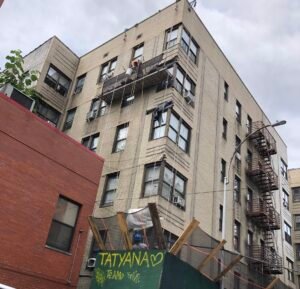 Masonry Contractor NY offers premium facade repair and restoration solutions to all clients across Queens. We undergo the Facade Inspection and Safety Program (FISP) to ensure every residential and commercial building complies with the NYC government-enforced guidelines on facade maintenance and safety. The facade of a building is one of the most crucial segments in construction that people notices at the first sight. It is the face of your property that pulls up the primary component of visual appeal. Facade FISP repair Queens is extremely necessary for the preservation of property value. 
According to the Department of Buildings (DOB) in NYC, buildings higher than six storeys must undergo facade inspection every five years. This is mandatory for the safety of the occupants and other neighbouring properties. We, at Masonry Contractor NY, aid all sorts of facade maintenance services including crack repair, brick pointing, steam cleaning, caulking and sealing, waterproofing, painting, and other repair and restoration programs. Facade FISP repair NYC as proposed by us comprises a comprehensive approach intended not only for cosmetics but up-keeping the quality as well.  
What is Facade Inspection and Safety Program (FISP)?
The New York City Department of Buildings (NYCDOB) initiated FISP earlier known as Local Law 11. It states every building owner (higher than six storeys) requires retaining a professional engineer or enrolled architect for examining the exterior walls of the building facade every five years and must file a report. The predominant motive of this law is to ensure that there is regular and proper maintenance of building facades for curtailing the risk of hazards due to falling rubble. 
Your facade FISP contractor Queens will perform the following procedure:
The FISP professional will scrutinize the exterior walls, balconies, railings, fire escapes, and other appurtenances on the building facade. This will be performed using a scaffold, a rope, or a boom lift- anything that can provide access to each part of the facade.

A report will be prepared based on the findings of the inspection. This report is classified into any of three categories- safe, safe with repair and maintenance program, and unsafe.

While 'safe' indicates zero issues, the other two categories imply minor to major concerns demanding immediate actions.

Facade FISP repair Queens

specialists like

Masonry Contractor NY

will be able to aid you with ideal repair and restoration solutions and save you from receiving more severe penalties!

For any new construction which is higher than six storeys or in case of a complete renovation of an existing building, the filing of the critical examination report is necessary.
How can Masonry Contractor NY Help You?
Masonry Contractor NY has abetted many clients in facade FISP construction repair Queens. We have enabled property owners to conform to the requirements of facade safety as furnished by the NYCDOB. We are registered professionals offering FISP critical examination to all buildings in the city and executing further actions. Our broad-spectrum services include the preparation of contract documents for repair and discharge of ideal solutions for every damage concern.
For years, we have served numerous clients through our extraordinary workmanship and intensive effort in creating a safer environment for everyone. We work closely with NYCDOB and adhere strictly to the facade safety compliances focusing on lowering the risk of building demolition hazards. Facade FISP repair NYC as offered by Masonry Contractor NY, is unquestionably one of the best in the industry, assuring hassle-free and efficient management of the entire procedure. If you wish to stay on the safe side, arrange a FISP examination with us. We will guide you through everything!