Time-Tested Services with Basement Waterproofing Innovative Solutions in Long Island, NY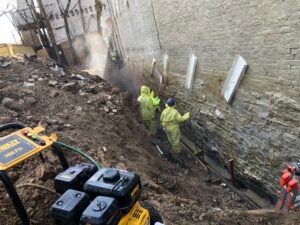 Do you have a leaky basement with a musty odor? These are signs of water damage- when left unattended can lead to deliberate problems. It affects the internal structure of your building, gradually causing decay and structural instability. Water seepage through the basement is the primary culprit behind foundation impairment, no matter how well-built is your construction structure.
So, if your basement is giving you a tough time keeping it dry and ventilated, we have the exact solutions to fix it. Excel Masonry Contractor is a trusted and reputed company, offering state-of-the-art solutions for basement waterproofing Long Island with proven results. Here in New York, basements constitute a very significant aspect of a property, and every house has got one! Not only it is a great place to stock away piles of unused stuff, but it is the ideal place to install sump pumps and room heaters.
Thus, the experts at Excel Masonry Contractor have been fixing leaky basements by implementing industry-standard products and techniques to keep them dry and healthy. Whether you have concerns about flooding, stuffy air, or humidity, we specialize in dealing with all kinds of wet basement problems to save you from consequential property damage.
Your Best Choice to have a Dry Basement!
Serving the industry for years, we are committed to persistent improvement in our services of a basement waterproofing on Long Island through extensive research and fabrication of long-term solutions. We have brought up cutting-edge repair and upgrade remedies that have successfully aided numerous residential and commercial property owners in getting rid of damp basement issues.
The products and groundbreaking techniques executed by the expert team at Excel Masonry Contractor have saved thousands of basements from the predominant water damage concerns. With a holistic approach, utilizing superior-grade products combined with patented repair practices, we have successfully delivered futuristic basement waterproofing fixes.
Identifying the Primary Causes of Basement Moisture
Basement moisture is not an uncommon problem. Every year we come across many property owners dwelling with some of the predominant signs of basement waterproofing failure like:
Pooling or standing water
Damp patches or blistering on basement walls
Efflorescence on brick or concrete surfaces
Wet floors and drywall
Rotting columns, headers, and joints
Mildew or mold growth
Musty odor
High relative humidity and
Poor ventilation
These create an unhealthy living environment apart from causing large-scale damage to the structural integrity of the building. Therefore, being recognized as one of the leading basement waterproofing companies Long Island, the proficient crew at Excel Masonry Contractor detects the root cause of basement moisture for the most relevant solution.
The prevalent causes of basement moisture are:
Cracks in the foundation often lead to groundwater seepage through the basement floor and walls due to hydrostatic pressure. Also, failure of the foundation waterproofing membrane can result in water ingress.
Often leaks in interior water fittings like pipes in toilets, sinks, showers, and other plumbing defects are the major causes of a wet basement.
Gutters and downspouts direct away rainwater from the building foundation. However, when these fixtures do not function properly, water starts accumulating around the base, often making its way into the interiors.
The ground around your property must slope away from the foundation to keep away rain and groundwater. Debris buildup or ineffective grading diverts water towards the construction structure.
An improper drainage system or broken sump pump can cause basement flooding and damp walls.
Lastly, the moist air in your basement often condenses coming in contact with cooler surfaces. Insufficient ventilation is the principal source of this problem.
Proposing the best basement waterproofing Long Island solutions, Excel Masonry Contractor focuses on utilizing the latest technologies to combat the diverse causes of water damage. Our exceptional craftsmanship has proven well-vetted results over the years!
Certified Waterproofing Contractor in Long Island
Leaky basements are a prevalent problem in houses and commercial properties in Long Island primarily because of the building structures, soil composition, weather, drainage systems, and ground layout. However, it is time to get your basement a neat, dry, and healthy ambience with expert solutions from Excel Masonry Contractor. We are fully licensed, insured and one of the most creditable basement waterproofing contractors Long Island. We excel in offering you budget-friendly and the finest sustainable solutions that will make your basement space habitable in any season!
Give us a call right away at 347-331-7600 to get a free estimate