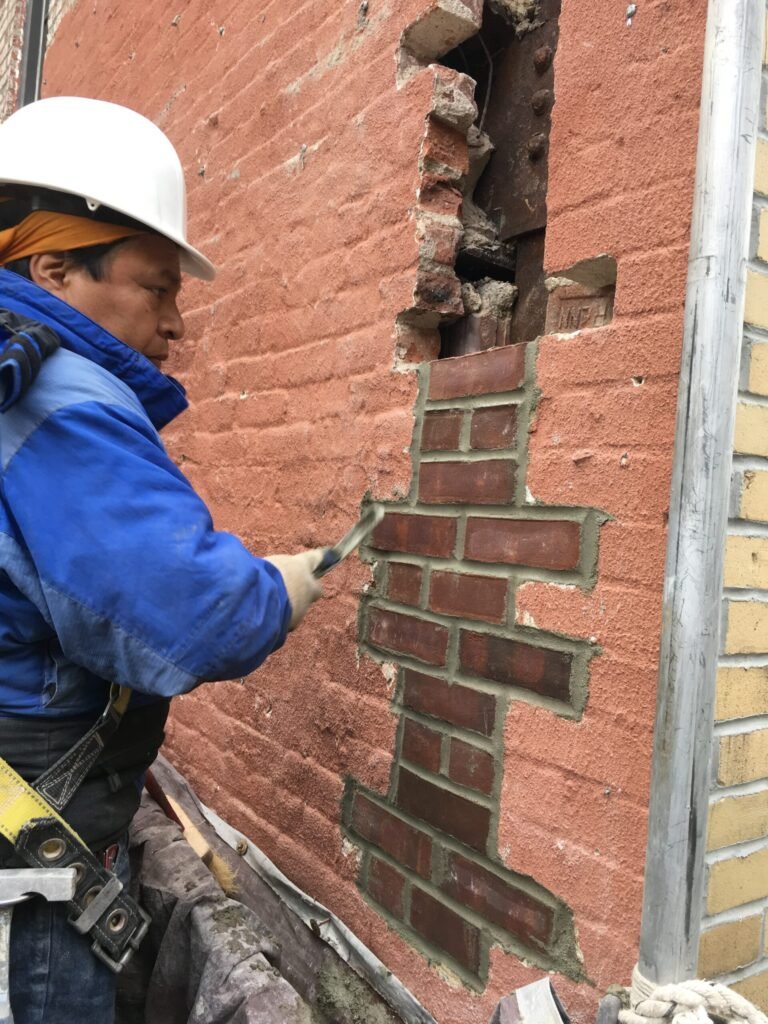 Offering you a diverse range of brickwork services, Masonry Contractor NY is one of the finest contractors in the locality. From brick pointing Westchester County to the installation of new brick structures, our experts possess impressive dexterity in enhancing the curb appeal of your property and restoring its condition. Sidewalks, driveways, patios, and walls, we can revamp anything on your property proposing a splendid aesthetically pleasing look.
At Masonry Contractor NY, we specialize in brick repointing and the removal of old bricks while replacing them with new ones. Also, for misplaced bricks, we position them to bring back the stability of the structure. Our men propose competent skills and diligence in achieving the greatest standard of results following the ethics of hardcore professionalism.
A strong and durable masonry, like brickwork, even demands repair and maintenance as they lose its resilience with time. Brickwork is an intricate task requiring sheer skills and profound comprehension of its application. Hence, hiring the right man is extremely important for satisfactory results.
Why do You Need Brick Repair?
As mentioned already, masonry is one of the most durable forms of construction. However, you will require a brick pointing contractor Westchester whenever you notice damage signs that can comprise missing bricks, cracks, loose joints, and so on. Damage in any form is inevitable as there are natural and chemical elements that are persistently affecting the masonry structure.
The continuous freeze-thaw cycle and other harsh chemicals are substantially responsible for corrosion causing major to minor damage. We have listed below the prime causes for brick repair:
Brick and mortar decay gradually result in flaking, chipping, cracking, and even separation. Extreme weather conditions are the predominant culprit. The masonry structure will lose its beauty and along with compromise its durability. Using the

brick grinding

technique and other methods, a processional can effortlessly fix such issues.

Decay and erosion come hand-in-hand. It means that when there is deterioration in a brick structure, it is apparent that corrosion is occurring simultaneously. You can blame it on water, strong winds, and pollution. These are the truest agents of abrasion. Approaching a genuine

brick pointing contractor Westchester

like

Masonry Contractor NY will aid you with ideal solutions proffering long-lasting results.

Water intrusion to the inner surfaces indicates a serious problem. As bricks age, they become more porous, capable of retaining moisture for a longer duration. If there are cracks, it is like a cherry on the cake! Water can penetrate deeper, affecting reinforced steel- the consequence is rust! Rust is highly corrosive causing steel and iron to crumble and disintegrate. For the best quality

masonry Westchester County NY

services, you will always need a skilled man to perform the task.

Diminished curb appeal is again a common problem of brick damage. Your property becomes unattractive when you have massive damage concerns. It even decreases your property value if you have resale in your mind!  
Why Should You Hire Masonry Contractor NY?
Masonry Contractor NY is a fully licensed company with trained professionals, specializing in a wide array of brick repair Westchester services. From repointing to replacing old bricks, our team can efficiently handle all sorts of maintenance and repair solutions.
As one of the most trusted contractors in the locality, we offer you greater convenience at much lower costs. Our project efficiency is reckoned with through the immense effort and dedication we put into accomplishing 100% client satisfaction. With improved safety and extended sustainability, Masonry Contractor NY delivers to you incredible services even when it comes to brick pointing Westchester County. So, when you do not wish to compromise on pretty affordable quality, then we are just a call away!