Trusted & Effective Solutions with Professional
Basement Waterproofing Contractors in Bronx, NY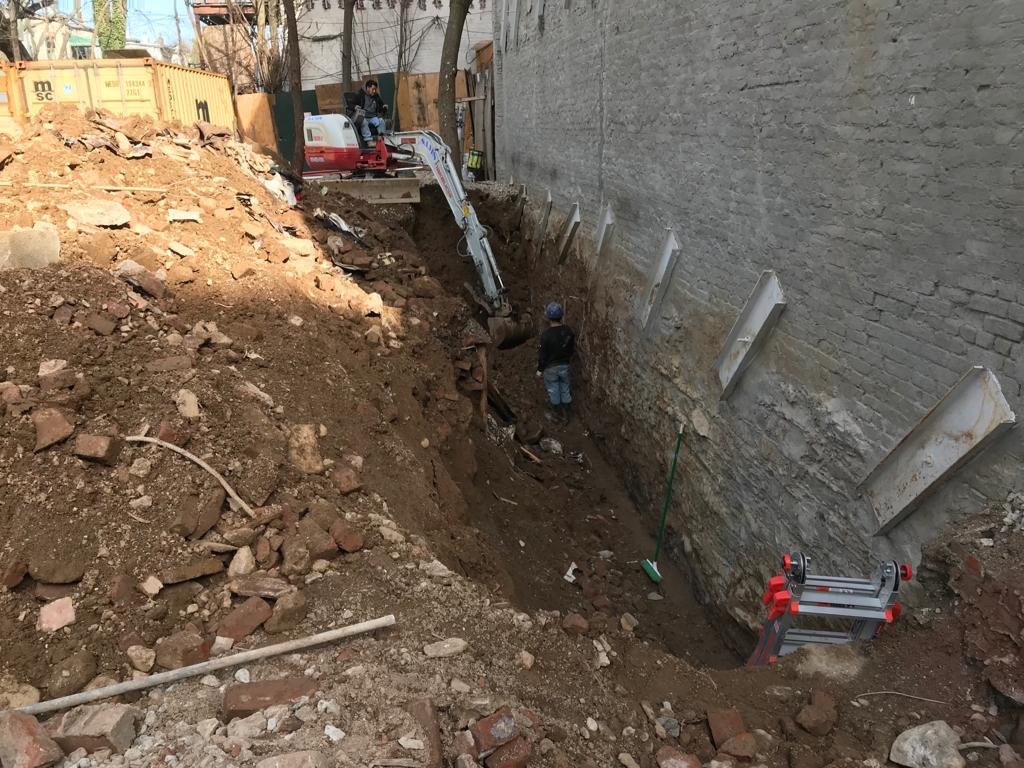 Wet basements are always a big NO-NO. Flooding basements are not just only frustrating, but they can be really frightening when you consider the long-term effects of water damage to the core of your dreamy and hard-earned house. Water damage erodes the quality of your basement and threatens the structural integrity of any home, no matter how sturdy, or well-built your basement is. These problems also decrease your property value in the long run. Well, fortunately, your problems have found us. Masonry Contractor NY can help you with high-quality waterproofing services in the Bronx to protect your biggest investment- your house. 
Whether you're experiencing small puddles or a large flood in your basement with cracked walls and damaged foundations, our team of certified and highly experienced basement waterproofing contractors in Bronx will help you to fix wet basements. Our expert team will help you understand the problems lying behind such nightmare problems and how you can easily avoid them with future-proof solutions. With thousands of successful project completion and decades-long industry experience in successfully executing basement waterproofing in Bronx, NY, property owners can rest assured on Masonry Contractor NY to receive high-quality waterproofing services in Bronx as they were promised. 
No More Leaky Basements – Hire Your
Bronx Waterproofing Professionals
Here 
Early detection of water leaks and moisture problems in your basement will reduce the impact of damage on your property and health. By knowing the common signs that you to opt for help from basement waterproofing experts in Bronx, NY, you will save money, time and stress in the long run. Homeowners can always opt for help from our basement waterproofing contractors in Bronx to schedule a thorough waterproofing inspection of their property or check for signs mentioned below and ask for a service quote for quick solutions. 
Detect Early Signs of Basement and Crawlspace Waterproofing Problems with Expert Help 
Dark streaks on the walls of your basements 

An unpleasant or musty odor

Pooling or Standing water 

White mineral deposits on concrete walls and surfaces 

Mildew or mold growth 

Poor drainage system 

Wet drywall, floors or carpets 

Leaking plumbing pipes

High relative humidity

Deteriorated vapor barrier 

Incomplete coverage of dirt floor 

Poorly-designed sprinkler system
Well, if you are going through any of these signs, then schedule a free consultation call (347-331-7600) with Masonry Contractor NY today. We have a round-the-clock emergency service to ensure that your queries about high-quality waterproofing services in the Bronx must be answered by certified contractors and solutions to be served promptly. 
Have Peace of Mind Through the Storms – Call Our
Bronx Waterproofing Professionals
At Masonry Contractor NY, our basement waterproofing contractors in Bronx have been delivering basement waterproofing solutions for the last two decades. Believe us; we can fix your basement as well. Schedule a free inspection today, and let us find the right solutions for your sweet home without emptying your pockets deep. We are proficient in more than one way to make your basement waterproof for a LONG-LONG time. 
Still Thinking Why to Hire Our Team? Here are All the Good Reasons. 
Insured, Bonded & Certified Team of Professionals 

Best Rated

Basement Waterproofing Experts in Bronx, NY

 

Budget Suited Service Pricing with Fast Response and Quick Solutions 

More Than Two Decades of Industry Experience 

Free Expert Inspection and Service Quote 

All Service Basement Waterproofing Company 
So, what are you waiting for? Get rid of moisture, odor and that ponding water from your basement? Call at 347-331-7600 or fill out the form for the service enquiry.