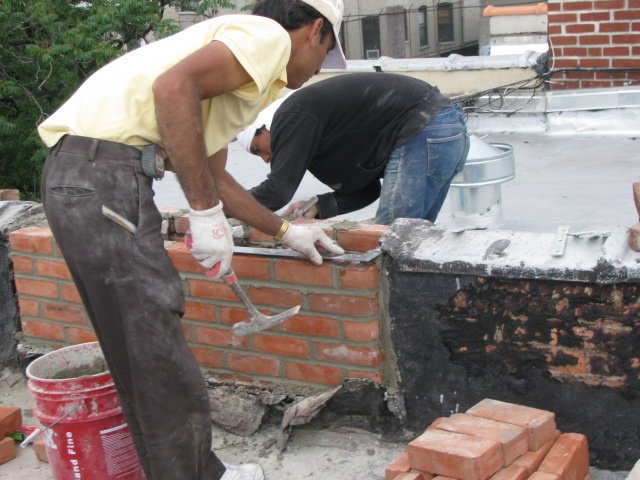 As a homeowner or property owner in Westchester, your home is one of your most valuable assets. When it comes to brick masonry repair or brick masonry installation, hiring a professional is the best course of action whether you are in the city or anywhere in the Greater New York area, including Westchester County. If you live in a home with brick walls and are seeking a brick masonry repair Westchester company, we can help with all your needs.
You may be thinking, how do I know who I can trust? How do I know we will deliver on their promises? You can trust us. Our team has a skilled brick masonry contractor Westchester that provides professional & trustworthy service for all your brick and stone masonry repairs, installations, and services in Westchester, New York. We are committed to the highest level of workmanship, high-quality masonry work queens, and customer service. We always strive to exceed our customer's expectations when providing them with their personal service needs. Our company is dedicated to delivering both quality workmanship and great value for money for our customers' projects.
Signs You need Brick Masonry Repair Experts:
Brick grinding and masonry repair are among the most important tasks in the home renovation process because they provide subtle aesthetic details while acting as sound absorbent material. Unfortunately, bricks are vulnerable to the elements and often need masonry repair sooner than one thought. Certified experts offer brick masonry services NY that will help your home's exterior maintain its aesthetic appeal while ensuring a high level of protection against moisture and pests.
Here are some warning signs that only a trained eye can detect:
Deteriorating or missing mortar:

The mortar used in the repair and installation of your brick masonry may become damaged over time if exposed to the elements. The mortar will deteriorate when it is exposed to moisture, which is a very important consideration. 

Mature mortar was designed to last 40 years, after that, it will start to crack, and the bricks will loosen up over time where they can be easily removed. The repair project is likely more expensive than expected and may require additional labor with a higher cost to re-mortar the walls.

Lack of weather resistance: The bricks for masonry repairs are also not engineered for extreme weather conditions like rain, snow, heat, and cold. Their ability to absorb and release moisture is limited compared to the original bricks. This can also cause cracking and other damage to the repairs.
Bulging bricks: Bricks are made of clay, sand, and cement and can expand, causing damage to surrounding mortar. This is because the brick will expand as it absorbs moisture outside and releases humidity during the heating season. Once this happens, repairs can be more expensive to fix since there is now more mortar to replace.
Cracked Bricks: Another sign of masonry repair is cracked bricks. This is a huge sign that mortar has not been properly set to the stone. This is also an indication of an incomplete masonry repair job which will likely require more labor and materials. You will get professional brick repair Westchester, NY services at Masonry Contractor NY.
Humidity damage: Masonry walls are planned to be in place for many years, sometimes 50-100 years or longer. If your brick masonry repairs need more mortar, the humidity and moisture can cause the brick masonry to deteriorate faster than it should and eventually rot from the inside out.
Masonry Contractor NY Can help:
If you ever need a brick masonry repair company In the Westchester area, then we can help. We offer reliable masonry repair service to everyone in Westchester County and the surrounding areas. Our brick masonry contractor Westchester has many years of experience working on home exteriors and can repair any home with brick walls.
Our team of certified Brick Masonry Repair Professionals have years of experience in the field and have completed hundreds of home projects for satisfied homeowners throughout the region. We always provide free consultation on brick masonry repair Westchester services so you will understand your options before making any decisions with your project.