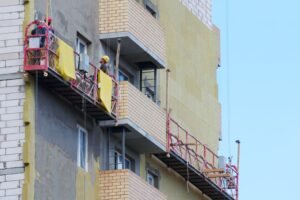 Ill-maintained building facades pose risks for pedestrians and adjacent constructions. For instance, if loose masonry components fall off, they can cause lethal damage to people walking by and impair other nearby real estate. Property managers must be aware of the detrimental effects of such poorly maintained buildings. After a fragment of terracotta fell from a building killing a student on the Upper West Side, the NYC government 1980 decided to take action. Local Law 10 was introduced, which mandated wall inspections at regular intervals.
The LL10 was fairly successful, but several accidents in the late 1990s compelled the NYC Department of Buildings to amend the requirements in the law. As a result, local Law 11, a stricter version of LL10 known as the Facade Inspection and Safety Program, was introduced.
NYC has a combination of environmental conditions demanding building walls, making some elements susceptible to rapid deterioration, such as:
Extreme temperatures
Vehicles and building heating systems cause air pollution
Given the proximity of the sea, salt, and its corrosive effect
What is the Facade Inspection Safety Program (FISP local law 11 inspection NYC)?
As stated above, the Facade Inspection Safety Program is the law formulated to prevent injuries to the people of NYC due to poorly maintained tall storeys. The requirements of the Local Law 11 inspection are as follows:
At five-year intervals, NYC buildings taller than six stories must have their walls inspected.
A Qualified Exterior Wall Inspector (QEWI) (Registered Architect or Professional Engineer; minimum one year of experience) must carry out the inspection.
Inspect appurtenances such as lighting fixtures, guardrails, signs, air conditioners, windows, and any objects attached to the wall that can drop if poorly supported.
Balcony enclosures (or railings) fall under the FISP local law 11 inspection NYC and require an installation permit.
More than 12,000 buildings in NYC are liable to Local Law 11 inspection requirements.
The properties have differing deadlines for inspection reports to avoid having the local law 11 inspection Manhattan staff overwhelmed with paperwork. If the buildings fail to submit the reports within the deadlines, penalties apply.
Inspection, Repair, and Renovation of Facade
During repairs, the building is kept under Bronx DOB violation removal under local law 11. And hence, it is crucial to get timely the repairs done. If you find anything unsafe in your property owing to its dilapidated condition, get it repaired at the earliest before the DOB violation worsens, thereby imposing charges for multiple offenses. The overall process is called the safety program of facades inspection and repair contractor Bronx. It is also referred to as the Local Law 11 Contractors Bronx. This applies to homeowners owing buildings having more than six or more storeys.
Infringement of the local law 11 could bring you before the court, and not adhering to local law 11 could also result in you paying substantial fines. Therefore, if your building is susceptible to local law 11 violations, consider it profoundly and hire local law 11 contractors.
Hire the Top Local Law 11 Contractors Queens
We have years of experience tackling the onus of residential and commercial buildings in NYC. We promptly help you sail through all sorts of violations problems so that you don't have to shell money unnecessarily.
We are the best local law 11 violation services NY. Our professionals have been proudly assisting homeowners since its inception. Unfortunately, DOB violation makes homeowners pauper financially. Before you are forced to pay the expenses of a DOB violation, you must hire an experienced DOB violation removal specialist.
Our team is well-oriented with the complexities of building and knows the correct methods to resolve local law 11 violations of your structure. First, with the help of physical inspections of your facility, close-up inspections of the streets are performed that encompass the outside areas of your buildings, such as the terraces, balconies, roofs, and appurtenances.
We assist you and pedestrians stay safe from the debris of ill-maintained buildings. Every person passing by dilapidated buildings is unaware of the structure's vulnerability and may pass by without noticing. To mitigate the risk of ill-maintained buildings, we meticulously renovate key building areas, ensuring your protection.
Keep Your Building Facade Safe With Facade Inspection Safety Program
Our facilities are tailored to the particular requirements of homeowners under an unmatched Facade Inspection and Safety Program. You must understand the underlying needs of the buildings before it gets too late. Just like the way you nourish your body with nutrient foods, in the same way, the building needs regular upkeep. In cases of six-storey buildings, being proactive keeps your building in optimal condition with no fear of exorbitant expenses in the future.
Once the building undergoes periodic renovations, the grandeur of the building and your modern lifestyle won't get affected. Give your building exceptional masonry work that accentuates the building's efficiency, effectiveness, and durability. Choose our best local law 11 violation services to keep the glare of your home intact.
We have an experienced team of sidewalk violation professionals in NY who lawfully execute strategies to tackle DOB violations, making necessary repairs in the building. Our discerning team whittles down the stress of homeowners who are grappling with DOB violations. We emphasize lucrative solutions, so they don't have to deal more with local law 11 violations.