New York Fire Escape Painters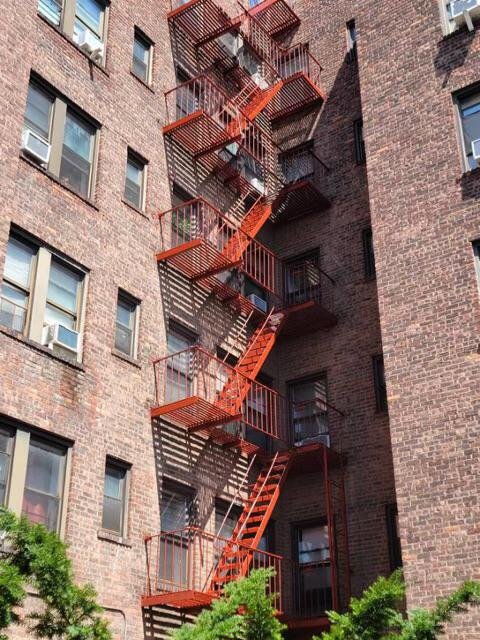 We at Excel Masonry Contractor are delighted to deliver you the finest fire escape painting solutions for prolonged life and keep you stay clear of violations! Our expert crew perform inspection, certification, maintenance, and painting of your system across New York, ensuring each building, whether residential or commercial, has a safe and functional fire escape.
The Fire Department New York (FDNY) can issue a violation notice when a property does not conform to the New York Fire Code. It aims at regulating fire safety operations that include the ideal installation and maintenance of an extensive range of building fire escapes. Though some of the breaches may be minor, others can bring serious consequences, requiring immediate action.
Nobody wishes to come into the legal records of the FDNY! So, being a reliable and reputed NYC fire escape painter, Excel Masonry Contractor proposes convenient solutions to all your fire escape maintenance requirements. Our highly-skilled and well-trained professionals extend prompt services at the most competent rates. With extensive experience and specialization in the industry, we ensure you receive optimal satisfaction with the guarantee of quality and durability.
The Role of Fire Escape Painting in Maintenance
A fire escape is an indispensable part of a building's fire emergency code. It acts as an easily accessible escape route for a high-rise building during a fire breakout when the lift and stairways are not safe to use. Thus, acknowledging its significance, it is of utmost necessity to keep the fire escape functional and reliable.
The FDNY undergoes fire escape inspection to look for damages and defects like loose or missing parts, rust, flaking paint, sharp edges or metal pieces, etc. These are causes for potential risks and compromises on the safe use of the fire escape during emergencies. You are to receive a violation notice if your fire escape is not in compliance with the safety codes.
Therefore, as a crucial segment of the maintenance program, fire escape painting New York is a prerequisite for boosting stability and enhancing durability. Now the question remains, how?
Most of the fire escape in New York are made up of wrought iron or steel. Since both of them possess immense tensile and ductile strength, it makes them ideal for carving those sharp bends and giving intricate structures. Regardless of their strength and stability, they are prone to rust. It is one of the most common damage concerns for fire escapes that makes them structurally weak and unstable.
Rust results in the formation of loose, blistering, flaking, or peeling paint. A powerful tool to prevent rust is to apply paint. It acts as a barrier to water contamination, protecting the underlying surface from damage. Oil and enamel-based paints are waterproof, enabling effective rust protection.
Commercial fire escape painters like Excel Masonry Contractor can help you scrape off the rust and old paint from the metal surface and apply thick coats of new paint- refurbishing your damaged fire escape to its former glory. It improves structural integrity, making it more steady and secure. Also, a newly painted fire escape is always aesthetically appealing!
Why should You Choose Excel Masonry Contractor?
The proficient team of technicians at Excel Masonry Contractor offers you a comprehensive range of fire escape services- from repair to refurbishment. Through meticulous inspection of your fire escape, we will identify the areas of concern and suggest you the most effective and long-lasting solution.
Implementing the latest tools and technologies for scraping and painting, we will ensure every inch of the damaged fire escape is sealed and well-coated in a thick layer of new paint. Professional fire escape painting cost at Excel Masonry Contractor is much lower than other companies as we believe in making every building safe while protecting mankind and the environment. So, to get things started, call us for a free quote! Let us work together for a better tomorrow!