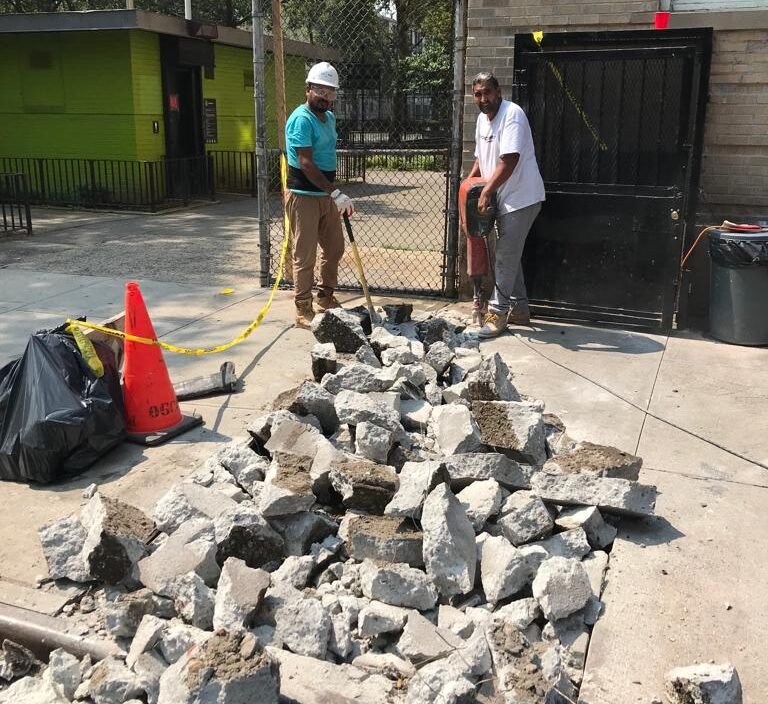 Pedestrians constantly trek down city sidewalks – going to shopping areas, workplaces, and other destinations. All that foot traffic can amount to significant wear and tear on the sidewalks, and then there's the weather that also degrades them.
Strong storms will sweep up the coast at times, bringing wind and rain, and sometimes even flooding caused by the waters of the Atlantic creeping inland. Even the typical freezing and thawing cycles of winter and early spring are vital contributors to damage caused to sidewalks. They cause expansion and contraction of the concrete, which eventually leads to cracking, and possibly chunks falling out. Whenever damage like this occurs, it should be addressed immediately before it has a chance to worsen into a significant hazard for pedestrians. For this, you must hire a top-rated sidewalk replacement contractor in Westchester County.
Dependable Westchester Sidewalk Contractor
We realize that the sidewalk is an important component of your home or business. Keeping it esthetically pleasing and functioning the way it should is our priority, alongside customer satisfaction. We are the best sidewalk repair contractor Westchester who can take the toughest, most complicated sidewalk issues and fix them with high-quality equipment and years of experience. Hire us to handle whatever comes your way when it comes to your sidewalk.
If your existing concrete sidewalks look worn, shattered, and broken, have them replaced or repaired by Concrete Sidewalk Repair Experts Westchester. We approach every job with providing the best quality results possible in mind. That starts with selecting quality concrete and ensuring that our installation processes are performed to the highest standards. As a result, our concrete services are available for a price that sets us apart from the competition.
A new concrete walkway transforms the landscaping outside of your commercial or residential property. In addition, these walkways boost accessibility, allowing you to traverse the property safely, increase the property's appeal, and boost its value. By turning to the experienced team of sidewalk repair Westchester County, you can get various concrete walkway design options instantly at your disposal, from the traditional to the more adventurous.
Improve Sidewalk Aesthetics
An unlevelled or cracked sidewalk can severely affect the value of your property. Damaged sidewalks can make your home look older and divert from other positive attributes of your property, such as architecture, landscaping, and color. However, selling new or well-maintained sidewalks when putting your house on sale creates an impression on the buyer of a well-kept and cared-for property. A good-looking sidewalk instantly adds value to your property. Our sidewalk repair professionals in Westchester County, NY, strive to provide you with the best sidewalk repairs in Westchester.
DOT Violations and Wall Retention
When you need sidewalk repair services to be taken care of in the New York City area, we are the best choice. With our expertise and know-how, we can address even the most complex types of sidewalk repair needs.
Don't let a few sidewalk damages leave you dealing with a huge, substantial fine by the DOT. Instead, contact sidewalk replacement contractors Westchester, NY, for our DOT violation repair expertise. We handle such issues promptly so that you can get on with business and life once more. Various cosmetic services are additionally offered to keep your property in shape: retaining walls, masonry services, etc.
Whenever it comes to concrete sidewalk repair in NYC or any other sidewalk-related services in New York City, our company is preferred to ensure quality service. From Bronx, Brooklyn, and Long Island to Manhattan, Queens, and Westchester County, we offer our services to many cities in New York. So, give us a call, whether it is repairing the curb or replacing the old, damaged sidewalk with a new one.