Top-Grade Flat Roof Waterproofing Solutions in Queens, NY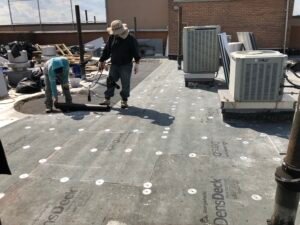 Flat roofs are a prevalent feature of buildings in New York City. With the advantage of easy maintenance and higher insulation efficiency, flat roofs are preferred among most property owners. Made of concrete, bricks, or stones- every flat roof requires efficient waterproofing and proper drainage. Failure to do so will lead to acute water damage, affecting the entire structural integrity of a building.
Thus, if you have a leaky roof, you must consider flat roof waterproofing Queens soonest to escape the severe consequences of extensive water damage. Excel Masonry Contractor is one of the finest general contractors in Queens, NY, proposing advanced comprehensive solutions for waterproofing flat roofs. We have expertise in manoeuvring multifarious facets of all your roof waterproofing requirements, demanding extensive skills and knowledge. Our expert crew is equipped with the latest technologies and the best-in-class equipment assuring sustainable results.
The team at Excel Masonry Contractor proposes efficient and cost-effective solutions to residential and commercial clients to keep your roof in the best condition- safer and longer life. We are acknowledged for our service quality and commitment towards attaining unsurpassed client satisfaction. So if you are facing adverse water effects on your roof, we are here to fix it so that you enjoy a better life!
Waterproofing Your Flat Roof with Excel Masonry Contractor
Your only alternative to keep your roof safe from water damage is to avail of services for waterproofing flat roof Queens from a renowned and trusted contractor like Excel Masonry Contractor. The professionals in our team are licensed, trained, and experienced in providing premium roofing solutions for every requirement. The close-knitted team is highly qualified to take over complex challenges and deliver world-class services for a safer living environment.
Employing environment-friendly techniques to accomplish end-to-end waterproofing solutions, Excel Masonry Contractor aims at offering you a more energy-efficient, functional, and long-lasting flat roof. Utilizing advanced roofing materials and techniques, we are here to cater futuristic solutions that will withstand the test of time and keep you away from all roofing problems.
Common Causes of Flat Roof Leaks
Since the inclination in flat roofs is minimum, there is a high probability of pooling water because water cannot run down the slopes. It results in leakage and drainage problems which are prevalent in flat roofs. As a property owner, you must know the cause of your flat roof leakage to assess the source and understand the most effective fix.
So, have a look:
When there is a mechanical or physical impact on your flat roof, it can lead to leaks and punctures. Modified bitumen, built-up, and single-ply roofing materials are more prone to such issues. You must undergo flat roof waterproofing service Queens to extend the service life of your roof.
Ageing is an inevitable factor that will eventually weaken the waterproofing membranes causing blisters and chipping. The weather-coat paint too, degrades with time, losing its functionality. So, your roof becomes highly prone to water damage.
Improper or poor installation of roofing membranes is a crucial factor affecting the majority of flat roofs. Leaks start occurring within a couple of years, and the sad part is many contractors do not owe the responsibility. You should perform periodic inspections by a licensed and insured professional like Excel Masonry Contractor for the best flat roof waterproofing Queens We will provide you with the most appropriate solution at your budget convenience.
Flashing and rain collars are installed on flat roofs to deflect rainwater from running down the building walls. However, over time, these components may become loose or ill-fitting, letting water seep into the building's interior. Proper maintenance and regular inspection can save your roof from extensive water damage.
Pooling occurs when there is poor drainage. Clogged gutters and downspouts are the evident causes that aid standing water penetrating through cracks and crevices. It can lead to a significant amount of structural damage if left unattended.
With so many factors leading to roof leakage, you must always hire an expert to determine the exact source. Identifying the origin will offer a sustainable solution.
Our Flat Roof Waterproofing Services
As licensed flat roof waterproofing Queens professionals, Excel Masonry Contractor has served many property owners across the City with comprehensive solutions on diverse projects, determining our vast experience in the industry. We provide a warranty on all our services, assuring the quality and durability of the project. Through years in the industry, we have accomplished many happy clients who form the core of our motivation and inspiration.
So, if your flat roof requires unfailing waterproofing solutions, call us for a free estimate. Let us extend your roof's life!