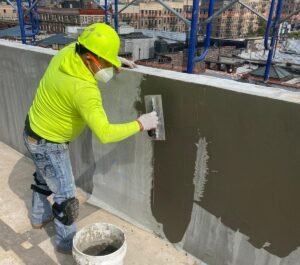 Stucco is a popular home siding option due to its water-resistant properties. It has many advantages that have made it a well-known and well-accepted choice for siding. In addition to being water and wind-resistant, it has superior esthetics, lasts for years, and is relatively inexpensive compared to other siding options. However, cracks develop in the stucco when it is subjected to the climatic cycles of extreme heating and cooling. When that happens, you can count on Professional Stucco Repair Contractors Queens.
Don't Worry about Fixing Broken Stucco Walls! Just Call US
We are an experienced Stucco repair company in Queens, having years of experience fixing broken stucco walls. It can be lamenting when your home shows even the slightest clues of wear and tear on stucco walls. But don't you worry, our stucco contractor queens are at your service whenever you need them.
Stucco walls last for decades when taken care of appropriately. However, even if one wall gets damaged, you must immediately get it repaired. Even the most minor crack allows water to seep in and create more damage than you can anticipate. Some consequences can be the formation of molds, mildew, or rot.
Home Stucco Repair Contractors at your Service
Fortunately, Home Stucco repair contractors are at your disposal. We are experts at repairing cracked and damaged stucco at homes and businesses all over the NYC area. If your stucco has been damaged, it is imperative first to check and ensure that the inside of the wall is as dry and free of mold as possible. Then we will professionally and expertly repair the damage and, if necessary, paint. When we're finished, you'll never know your stucco was damaged in the first place.
Our residential and commercial services include the following:
Exterior Insulation Finishing System (EIFs) Installation.

Interior Plaster

Acrylic Stucco

Custom & Cultured Stonework
Facade Wall Restoration
Due to the harsh New York weather, stucco façades eventually crack, spall, and blister. These unsightly blemishes affect the aesthetics of a building and compromise its integrity. In addition, cracks open to moisture can suck in water like a straw, leading to interior wall deterioration. The trapped water would foster mold growth and structural deficiencies if left ignored. Therefore, the warning signs of the building requiring the assistance of Stucco Installation Contractors Queens are when facade cracks and failure appear.
Basically, there are two types of stucco façades:
Cementitious (typically multiple layers of cement-based materials on lath)
Exterior Insulated Finish Systems, otherwise known as EIFS.
Stucco Repair Process
Cementitious stucco systems are usually found on older homes and buildings, providing a rigid façade that withstands harsh environments. Professionals trowel them onto a mesh, which is mechanically fastened to a substrate. The multiple layers create thick, hard cement protection for the house or building envelope. Unfortunately, its rigidity is also its downfall since it can't physically move without cracking.
Exterior insulation finish systems, abbreviated as EIFS, contain an insulation board attached to the substrate, with a mesh impregnated acrylic-based cement layer and acrylic finish coat. These systems can create architectural details with ease and provide water repellency. Unfortunately, installation errors have plagued these exterior insulation finish systems with devastating effects and a bad reputation. Cracks, spalls, and degradation must be repaired with specially formulated coating systems to protect the structure and enhance the building's appearance.
Our experts are licensed general contractors in NY and have tremendous experience in stucco repair, restoration, and EIFS façades. Their professionals can skillfully restore both acrylic and cement stucco. We also offer unique, advanced processes for crack repair and restoration of spalling surfaces. Their stucco repair utilizes specifically formulated coating materials to fill cracks and spalls, while the high build acrylic and elastomeric coating systems protect the structure and enhance the building's appearance.