Stucco Installation, Repair, and Restoration Services in Brooklyn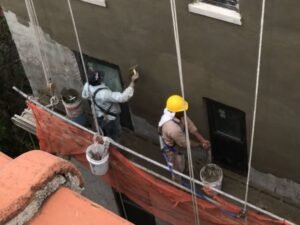 Stucco is an incredibly beautiful incorporation in any building. As a popular choice for exterior walls and sidings, homeowners prefer stucco for its exquisite visual appeal and high level of durability. Smooth or textured, it has been used for centuries and has remained a favorite exterior building material to date. Primarily made of lime, cement, and sand, stucco is ideal for application on wood and other mason materials.
The expert stucco contractor Brooklyn, Excel Masonry Contractor, specializes in the installation, repair, and replacement of stucco on any residential and commercial building. We propose long-lasting solutions, employing highly skilled men who possess immense comprehension and experience in manoeuvring various stucco services. We don't just perform installation and repair works but also assist you in examining the source of damage and other elementary issues.
At Excel Masonry Contractor, we focus on regular maintenance of your stucco so that it can offer you extended life curtailing potential damage concerns. Offering you the best guarantees on services in the industry, we always utilize superior-grade products so that you turn to us; every time!
Stucco for Residential and Commercial Buildings
As a competent commercial stucco contractor Brooklyn, Excel Masonry Contractor is licensed and experienced to execute large, complicated commercial projects with minimal or no disruptions to regular business activities. Completing the project promptly without compromising service quality is the principal objective of our extremely passionate and dedicated crew members.
For intricate residential projects, we invest extraordinary craftsmanship in the design and integration of beautiful stucco effects, layered with textures; to provide your building with a durable and exquisite finish. You can paint or apply other finishes to your stucco that boasts your taste and preferences. However, to make your stucco look great for years, proper maintenance is indispensable! Contact our experts to schedule an inspection because preventive planning saves expensive repairs or replacements!
Why should You Use Stucco?
Generally, stucco is applied on external surfaces through plastering. This mixture of cement, lime, sand, and water in distinctive proportions forms a hard and solid layer after drying out. Properly applied stucco by one of the renowned stucco installation contractors Brooklyn, Excel Masonry Contractor, will provide you with sustainable results at the cost of low maintenance.
Check out these benefits of stucco and then decide about its installation:
Among a lot of other masonry materials, stucco is perhaps one of the most durable ones. It can withstand harsh weather conditions and chemical reactions without affecting its strength and longevity.
Stucco is a versatile building material that can be used on wood, brick, and other surfaces. You can customize it with diverse finishes- from smooth to textured. You can apply stucco on the sidings, building moldings, architectural designs, and ornamentation. And what about colors? Paint or tint- choose whatever you feel like!
Similar to brick, stucco is also highly resistant to fire. It is used in commercial kitchens and restaurants as it complements New York's fire safety codes.
If you want to go for a cost-effective alternative to wood and vinyl, stucco is your best deal. With low maintenance and extended lifespan, you can save yourself the extra expenses!
The Impact of Stucco Damage
Though highly durable, stucco is vulnerable to damage caused by ageing, environmental stresses, temperature fluctuations, and seismic movements. Even the best stucco work experiences some degree of damage over a period. Cracks, stains, and dampness in stucco are the most prevalent damage concerns that play a vital role in weakening a building's performance. Most of these arise from waterproofing failure.
So, we at Excel Masonry Contractor propose world-class stucco repair and replacement solutions that are budget-friendly and effective. Being one of the leading stucco repair contractors Brooklyn, we delve deep into the problem and examine the underlying cause for a sustainable result.
Your Reliable Stucco Contractor in Brooklyn!
Are you looking for a licensed stucco contractor Brooklyn? Your search is over with us! Serving the industry for years, Excel Masonry Contractor is a creditable company with a long list of loyal clientele, delivering unerring projects every time! Whether small residential projects or large commercial buildings, we have proved efficiency, adroitness, and diligence in all spheres.
The close-knitted team of project managers, architects, designers, and laborers at Excel Masonry Contractor work in perfect harmony so that you receive nonpareil results; without scope for errors!
So, are you ready to get an instant quote?