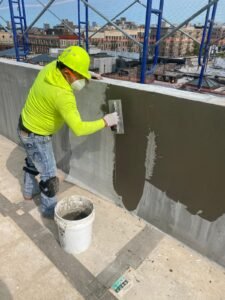 Stucco is a common material prevalent in the art and architecture industry. A stucco is a form of plaster that is used for forming the exterior of a building. The primary purpose of using stucco for building renovation is its higher durability. You can simply use stucco to renovate because it has lesser maintenance and several other features. But, before doing so, you must also choose the right stucco repair contractor Westchester who can help you get the best-stuccoed appearance of your possession. Here are the tips you can follow to hire a professional and the right stucco contractor.
Look For reliable references
Before hiring the right commercial stucco contractors, you must research well and see if someone in your community or friend list has done any building restoration work. This will help you to get in hand with a repairer who has previously worked with someone you know. If the person you know is satisfied with the service offered, you can hire a contractor to renovate. This will ease your task of choosing a stucco contractor.
Read More:- The Work Process Of An Experienced And Professional Facade Restoration Contractor
Get a detailed quotation for the project
Several stucco repair companies are available in the market to offer repair services. But, availing of a detailed quotation for the services to be offered will help you understand what kind of services you will get within an estimate. Some commercial stucco repair contractors will provide more services within a fixed budget, and some will offer fewer services. So, it is better to hire a suitable stucco contractor who can offer the highest quality services within an affordable budget. We are one of the best stucco repair contractors in Westchester who is always there to offer you quality repair services.
Talk about the future maintenance of the stucco product
A licensed stucco contractor will help you maintain the material in the future. The stucco has an impressive look which enhances the beauty of your possession. Although it has reduced maintenance, that doesn't mean that you will not look towards its maintenance at all. You can hire us in the Bronx to get knowledgeable advice regarding your stucco. We are the best commercial stucco repair contractors who are always there to provide quality advice to you regarding the future maintenance of your building.
Check for a company license
Read More:- How To Hire The Top Masonry Contractor In NYC?
A licensed company for stucco repair will ensure that they follow all the required standards and regulations of the government. It will also ensure that they offer comprehensive services without much hassle. Thus, when you want to hire a stucco repair or renovation contractor for your building, check whether they have a license.
Final Words
If you can follow all the tips regarding selecting the right stucco contractor, you can indeed get a hold of a professional company. We are one such professional Stucco repair offering the best services in Queens, Manhattan, and several other places. So, if you want to renovate and repair with premium quality stucco, you must contact us directly.