Elevate Your Landscape with Professional
Retaining Wall Contractors in Queens
, NY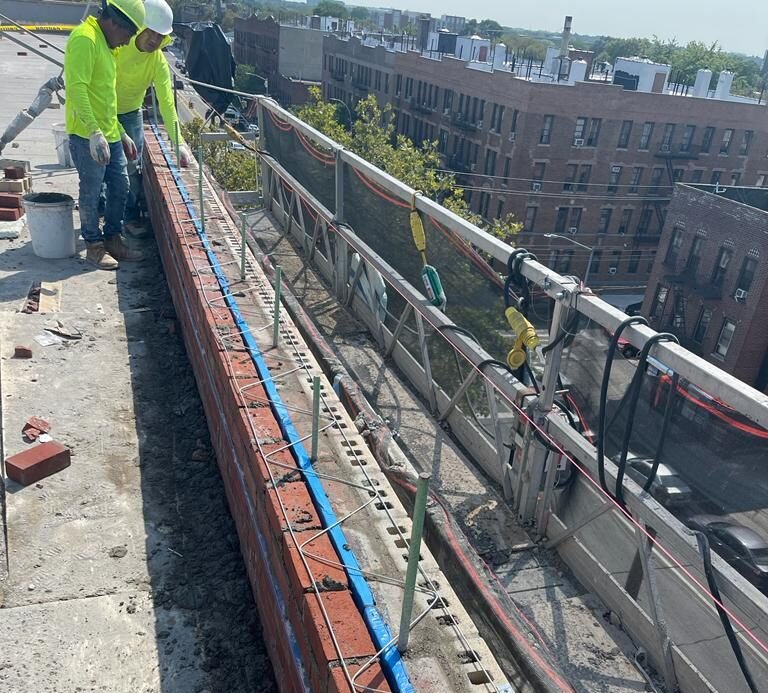 Whether you are having trouble with the hillside stabilization of your property, want to prevent landslides, create more beautiful yard space, or just looking for a fresh, elegant look for your Queens, NY based property; installing retaining walls blocks should be your priority to maintain a trendy look and best aesthetics for your property. A retaining wall is not only a protective structure that holds back soil from a structure or building to prevent landslides and erosion of soil, but nowadays, it's one of the primary property features that enhances the overall value of your property. 
At Masonry Contractor NY, our expert retaining wall contractors in Queens work closely with our clients to uncover their requirements and help to fulfil those requirements quickly and efficiently throughout Queens, NY and its surrounding areas. Adding high-quality stone retaining wall blocks to your property can add depth and value to any outdoor setting. Our retaining wall services will give property owners the freedom to custom design their stone retaining walls and garden retaining walls to an unmatched curb appeal to their properties without emptying their pockets or costing them thousands of dollars. 
To Last a Lifetime, Hire Professional
Retaining Wall Builders in Queens
Stone retaining walls have been a fundamental element in construction projects in Queens, NY, area to add value to the building area. Our company provides the highest standard retaining wall blocks combined with the services of trusted retaining wall contractors to enhance the value of your yard. All of our team members have been through rigorous service training and have received certifications as professional retaining wall contractors in Queen. With over four decades of combined experience in the retaining wall industry, residents at Queens opt for our services first when they search through the phrase retaining wall contractors near me. We pride ourselves on providing the highest quality stone retaining walls with proven services for the best structural integrity. 
Masonry Contractor NY's

Retaining wall builders in Queens

will help you with: 
Preventing Damage to Nearby Structures 

Resisting the Gravity Load 

Averting Soil Erosion 

Controlling Flood During Heavy Downpours 

Utilizing or Diverting Rainwater 

Reshaping the Odd Slopes of Property 

Beautifying the Backyard and Landscapes with a Distinguished Look 

Eliminating Unsightly Corners of Property 

Preventing Sink Holes and Yard Maintenance 

Enhancing Property Value with Improved Usable Land and Sitting Area 
Retaining Wall Installation, Design & Repair Services in Queens, NY 
At Masonry Contractor NY, we are well familiar with the building requirements of stone retaining walls. Our retaining wall contractors in Queens work closely with clients and guide them through permits, processes and great outcomes. We walk them through top quality retaining wall blocks and other materials in regard to design to ensure excellent outcomes from our retaining wall services. You can count on our retaining wall builders in Queens to have stable and beautiful footing made to last. 
Our retaining wall services will deliver you a high-style exterior for your property with a strong, solid core. Give us a call today to schedule a service visit for your property. Our retaining wall builders in Queens will deliver you a free and exclusively budget suited service quotation for your effortless selection. We aim to deliver your dream home vision with utmost efficiency and professionalism and strive to deliver perfection and great value to each and every one of our clients. Contact us today to hire our services for a beautiful custom-designed retaining wall built for your property in Queens, NY. Hurry up and call at 47-331-7600 to get more of our service details.